How to fix 0хс000000е9 error?
A problem with 0хc000000е9 error occurs in Windows PC users. It is issued when the OS is installed or during the download of an already installed system. The reasons for this are as follows:
Windows does not load the required files from the drive;
When the drive (possibly a DVD drive) has failed, there is a problem.
Fixing 0хc000000е9 error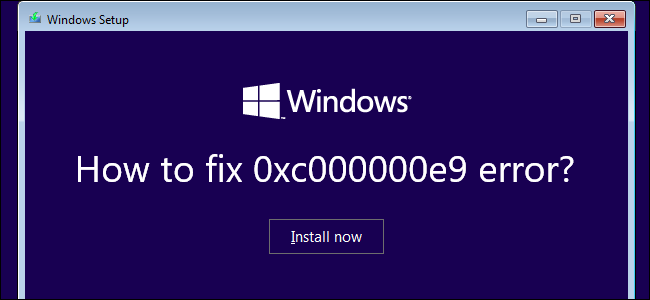 First, make sure that the hard drive is in the normal state. To do this, use the utilities S.M.A.R.T-monitoring. There are many such programs, for example, HD Tune, CrystalDiskInfo, HDDScan. We are interested in S.M.A.R.T-attributes – if critical values ​​are reached on some line, then it will turn red. This signals that the probability of the drive failure is high – do not risk information, buy a new HDD or SSD.
Among the universal ways to solve the problem, the following are effective:
connect a working hard disk to the computer and check if the message 0хc000000е9 appears in this case – if not, buy a new drive;
reconnect the drive to another port on the motherboard or use a different cable.
The error occurs duting OS installation
Use the original Windows image. In pirated versions, changes are often made, due to which there are problems of compatibility with the equipment.
Use another DVD or USB flash drive. On the surface of the disk there are scratches that make it impossible to read the information – write the OS image to another DVD. Regarding the installation from the flash drive – write the image to another drive, use a different program. For example, use the official utility from Microsoft – Windows USB / DVD Download Tool.
The error is issued on the installed OS
Restore the system. Pinch the Win + R combination, type rstrui in the window, and press Enter. Follow the steps in the running program – you need to roll back Windows to the previous restore point.
Disconnect the USB peripherals. Sometimes third-party equipment, including mice and keyboards, causes a malfunction. Make sure that none of the USB devices are responsible for the error 0хc000000е9.