0x1000008E error guide: how to fix
A blue screen with an error of 0x1000008E is a typical problem for PC owners with Windows XP, but sometimes it appears on newer OSes. The reasons are as follows:
memory fault;
conflict OS with equipment or application that uses
virtual driver (emulator drive, antivirus).
How to fix 0x1000008E error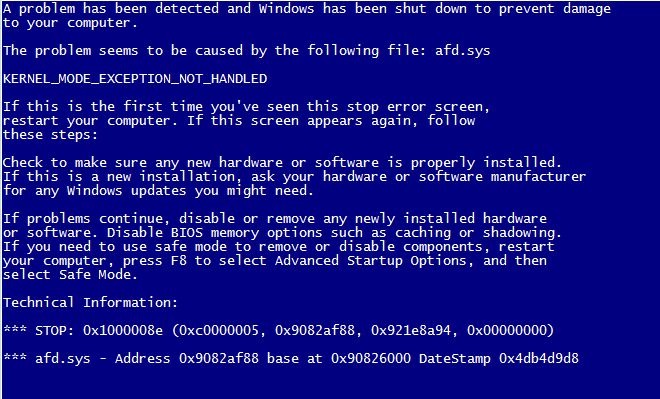 This failure occurs for many reasons, so you need to act in a comprehensive manner. First try the following:
boot in safe mode – if possible, then definitely some hardware or driver conflicts with the OS, so remove the recently installed programs and devices;
check the serviceability of RAM – if there are several RAM slots in the PC, then try to disconnect them one by one and drive the memory through test utilities (for example, Memtest86 +);
install all available Windows updates – they often resolve conflicts with hardware and software packages of third-party developers.
If the error 0x1000008E does not disappear after this, follow these steps:
"Clean" OS load. Boot Windows in safe mode. Go to "Control Panel" => "Administration" => "System Configuration" => "Startup". In the window among all the rows, remove the checkmarks from the positions in which the manufacturer did not specify Microsoft. Save the changes by clicking on "Apply" and reboot the computer.
Detection of the failed component. To do this, examine the error log. This is possible with the standard Event Viewer. Use it to open the file C: \ Windows \ MEMORY.DMP or C: \ Windows \ Minidump. You can also press F8 (Shift + F8) before Windows startup and select "Disable automatic reboot on system failure" in the window that appears – in this case you can read the error message in detail. The main thing is to find in the description file of the form xxx.exe, where xxx can be anything. When you download or process this executable file, it crashes. Understand with the help of the search engine what this file is responsible for. This can be a driver – then try a different version, not necessarily newer, because sometimes the best stability for older releases. It also happens that the error 0x1000008E is eliminated only after switching to modern versions of the OS.