How to fix 0x8000ffff error?
Error notification 0x8000ffff appears in Windows 7-10 when installing system updates and programs, and during system recovery. The following causes the problem:
viruses and similar malicious programs;
damage to OS files;
incorrectly installed drivers;
windows update errors.
Let us examine the ways of correcting the problem, depending on the conditions under which it arose.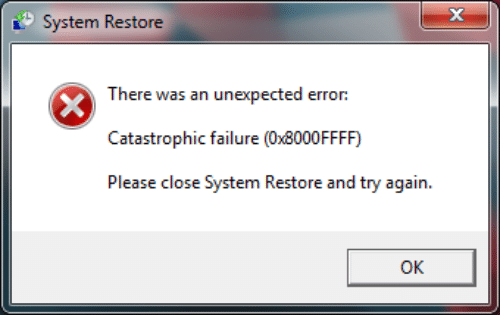 Basic solutions
Make sure there are no viruses on the computer.
Check for drivers on all devices.
Use the built-in system file checker. Open the Command prompt with administrator rights. Run the sfc /scannow command. This will scan and repair corrupted system files. After that, you should run the DISM /Online /Cleanup-Image /RestoreHealth/ command in the Command line.
If Windows was restored
Login to the system from the administrator account. When recovering from a non-administrator profile, unnecessary system files may not be deleted and a failure will occur. This is solved simply. To do this, in Windows 10, go to Start and click on the user's photo. In the drop-down menu, click on Exit. Login to the system from the administrator account. Alternatively, you can create a new administrator account.
Correct the registry. Start Registry Editor – hold Win + R, type regedit, confirm with Enter. Find the following in the left pane: HKEY_LOCAL_MACHINE\COMPONENTS\AdvancedInstallersNeedResolving, HKEY_LOCAL_MACHINE\COMPONENTS\NextQueueEntryIndex, HKEY_LOCAL_MACHINE\COMPONENTS\PendingXmlIdentifier. They need to be removed, but not every line can be present in your system. After – mandatory OS overload.
If the error 0x8000ffff occurs when installing applications
This is especially common for programs from the Windows Store. The problem is solved by checking the correctness of the time and date in the OS. It is preferable to set the automatic time adjustment. Make sure the time zone is correct.
Also it is worth cleaning the application store cache. Pinch the Win + R combination, type WSReset.exe and confirm with Enter.
If 0x8000ffff occurs when you install Windows updates
Sometimes the error does not allow the OS to update due to the fact that the third-party application interferes with the update procedure. You need to find out what kind of program it is.
Go to the address: C: \ $ WINDOWS. ~ BT \ Sources \ Panther \. This directory is hidden, so be sure to enable the display of hidden files and folders in the view settings.
Find the file that ends like this: _APPRAISER_HumanReadable.xml. Open it in Notepad.
There will be many lines in the document, but you only need to find the value of BlockingApplication = True. The easiest way is to hold down the Ctrl + F combination and enter this value into the search string. Remember where BlockingApplication = True is located opposite the application names. These programs interfere with the update, so remove them.
If the error 0x8000ffff occurred when trying to restore the OS for Windows 7, then we recommend that you read this official instruction from Microsoft, but the solution specified there is quite difficult for ordinary users.