How to fix Windows Update 0x80071A91 error?
0x80071A91 is another error that may occur during the automatic update of the Windows 10 operating system. As with all other similar errors, it's time you do not fix the problem – further system upgrade is impossible (well, perhaps, besides manual installation). Usually, errors in Windows Update are fixed by a known set of methods, however to 0x80071A91 – this does not apply.
In this article, we'll look at a small list of ways that will surely help you fix this bug. It is advisable to perform them one at a time – and then you will succeed.
0x80071A91 error guide: how to fix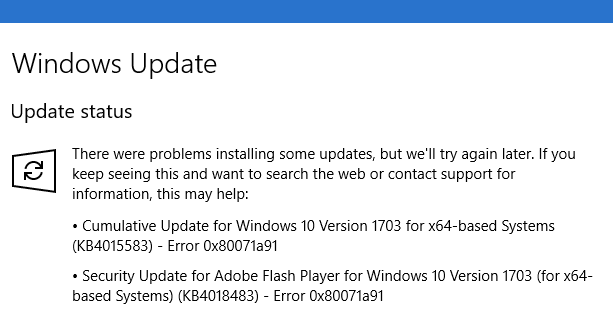 Method # 1 Resetting the FSRM
Press the Windows+S key combination;
enter the empty string cmd.exe;
right-click on the result and select "Run as Administrator";
as soon as you open the Command Prompt with administrator rights, enter the command fsutil resource setautoreset true C:\\ and press Enter;
Once the command is complete, restart your operating system, and then check to see if Windows Update will work. Probably, the error 0x80071A91 will be eliminated by this moment. If not, we move on.
Method 2: Deleting CLFS Logs
Open the Command prompt again with administrator rights, as it was already shown in the first method;
open the system console, enter the following series of commands into it:
cd /d %SystemRoot%\\System32\\SMI\\Store\\Machine
attrib -s -h *
del *.blf
del *.regtrans-ms
After completing the commands, restart your system again, and then check for the error 0x80071A91 in Windows Update 10. However, it should be noted that a huge number of users dozens complain that the above commands can not be performed, because the executables are in use by the system . If you encounter a similar problem, then you need to do the following:
download the Unlocker program to your computer and install it;
press the key combination Windows + R;
type %SystemRoot%\\System32\\SMI\\Store\\ and press Enter;
right-click on the Machine folder and select "Unlock";
Now again, re-enter the commands shown a little higher in this same method.
We hope that this material helped you to solve the problem in the face of error 0x80071A91.