The Desktop Window Manager has encountered a fatal error (0x8898009b): how to fix
The Desktop Window Manager has encountered a fatal error (0x8898009b) usually appears in those users who have a video card manufactured by ATI (AMD). Failure occurs both during system startup and during video playback, similar to trivial operations. The reason is a problem with system components and video drivers.
How to fix 0x8898009b error?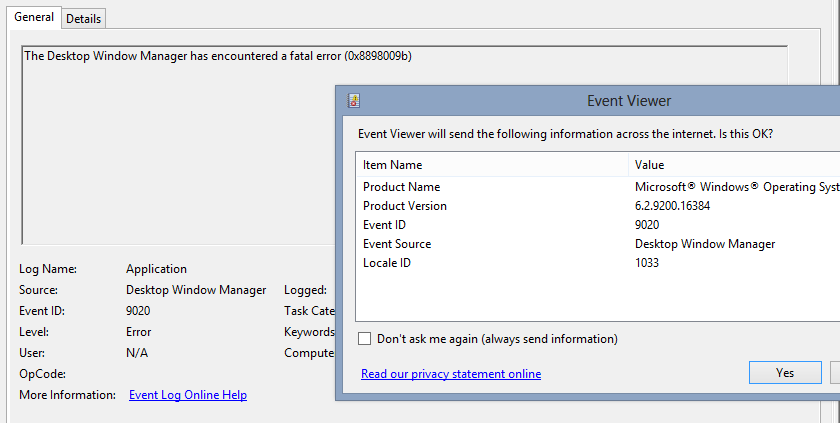 It is solved in the following ways:
Make sure that the PC software is up-to-date. Install all Windows updates and the latest driver on the graphics card. Check that no more new firmware has been released for the motherboard than the one currently in use. It makes sense to look in the Device Manager that in the "Video adapters" section, there are no crossed crosses in front of the devices. If they are, then uniquely reinstall the driver on the graphics card.
"Play with the updates." Sometimes it helps to force the following system updates to be removed: kb4093118 and kb2952664. To do this, follow the path: "Control Panel" => "Programs and Features" => "Installed Updates", select the specified updates and click on the "Delete" button at the top.
Set the HPET timer. Run the command prompt with administrator rights. Type the command bcdedit / set useplatformclock true, start it by pressing Enter, reboot the system.
Enable the Aero interface forcibly. Hit Win + r, enter regedit. Find the path HKEY_CURRENT_USER \ Software \ Microsoft \ Windows \ DWM. Create three lines in the DWORD (32-bit value) line: UseMachineCheck, Blur, Animations and set the value to 0 everywhere. Close the Registry Editor, open the Command line with administrator rights. We start by pressing Enter in turn the commands Net Stop uxsms and Net Start uxs. On an empty seat on the desktop, we press the right mouse button and then: "Personalization" => "Themes Aero" and choose an arbitrary option. After that, error 0x8898009b (Desktop Window Manager has finished working with the code (0x8898009b)) will stop alarming you.