How to fix error 0xc0000005?
There is a huge amount of reasons for error code 0xc0000005 to appear. Evidently, this problem can't be fixed with 100% guarantee. It doesn't have an exact code description that indicates the cause of the issue. However, due to the analysis of the most likely reasons we have done this guide that may help you to eliminate 0xc0000005.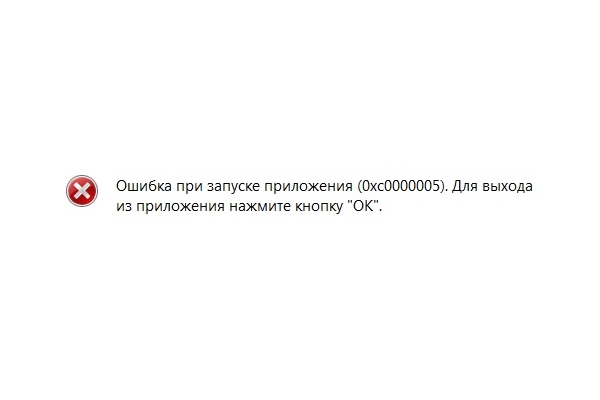 What is the cause of the issue?
The reason of 0xc0000005 code is simple, but it looks a bit surprising. It is caused by the official Windows updates kb2859537, 2872339, 2882822 and 971033. This error bothers the Win7 users most often, but it's not an exotic one for Win8 and Win8.1.
How to fix 0xc0000005 error
First of all, don't worry about it. The reason of this problem doesn't show up because you have done something incorrectly, for example, deleted a system file. It happens only because of the Microsoft's fault.
So, let's see what to do with "the application was unable to start correctly 0xc0000005" message. There's nothing fancy here and you should only follow the instructions below.
Note: there are two ways to remove this error. The first one is pretty simple and the other one is even easier. Firstly, try to remove the updates using standard methods.
Open the command prompt Run using Start button or simply press Win+X on your keyboard.
Type exe /uninstall /kb:2882822.
Restart the PC if you have succeeded in updates removal.
Check if the update is deleted and do the same operation with the remaining data (2859537, 2872339 and 971033).
Tip: check if code 0xc0000005 disappeared each time you delete the update.
Other solutions of 0xc0000005
If the previous steps didn't help you, then we recommend to do the following:
Conduct RAM test using free utility called Memtest.
If there are no problems with RAM, then scan the PC for viruses and delete all the files that seem suspicious.
Restart the PC and check for the 0xc0000005 to disappear.
Re-install the graphics adapter driver.
In rare cases the issue may be caused by a printer. Remove its driver or re-install it.
Finally, if all the steps are in vain restore the system to an earlier state where "the application was unable to start correctly 0xc0000005" message didn't appear.