How to fix error code 0xc0000142?
The error code 0xc0000142 «the application was unable to start correctly 0xc0000142» makes people really disappointed. It doesn't matter, which OS is installed: Windows 8, 7 or 8.1. There are a lot of reasons for this one to appear:
damage dealt to the library data;
abnormal changes in system files;
compatibility problems.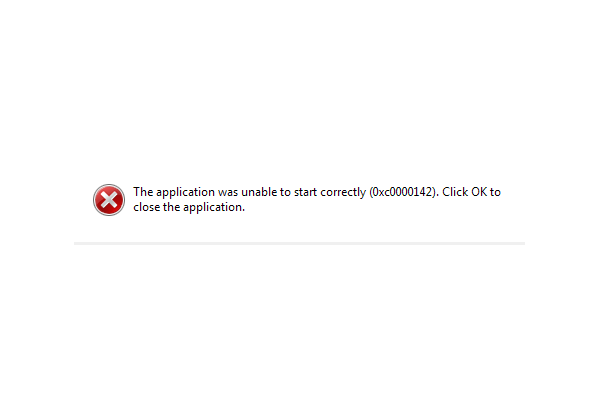 What to do in this situation?
Sometimes you don't need much to find the way out, but it can also waste a lot of your time. For not to let you suffer we have summed up all the information. Some steps are pretty simple, so they took the first place of our rating. The others may need much time to be performed so you will find them at the bottom.
Windows 7 up to 8.1 version may cause the error 0xc0000142 to appear while running the specific app. You should operate with the compatibility settings:
use the .exe file or label of the application and find Properties in settings;
after this, you should switch on the compatibility with Windows XP SP3;
finally, press OK for the confirmation and launch the app.
Note! Make all the compatibility variants switched on, one after another. You never know which one will solve the problem: it may be Windows Vista or Windows 95 as well.
Run the game using the administrator privileges (look for them in the label options).
Update or reinstall Direct X and .Net Framework.
Look for some viruses on your PC using an actual version of the antivirus program.
Code 0xc0000142 may appear because of the Windows updates absence. You should download all the recent system updates and try to start over a game.
Find a command prompt Run using Start button and type sfc / scannow. It will definitely fix the data problems. We recommend to do it only on the administrator OS account. Sometimes it helps to fix 0xc0000142.
Find the folder Temp on the Drive C:. You will see it in the folder Windows. Than look for all the temporary files and remove them.
The reason of the error 0xc0000142 may be hidden in the outdated drivers of the graphic accelerator. Try to update them.
If «the application was unable to start correctly 0xc0000142» window still comes out then simply delete the application and install it again. Code 0xc0000142 often comes after the emergency shutdown or restart of your computer. The only way out is to restore the system.