How to fix error code 0xc000007b?
Peculiar the application was unable to start correctly 0xc000007b shows up if the OS data was damaged. It also appears if your computer had an emergency shutdown or restart. Likewise, the cause of it may be DirectX absence (or its damaged data), Visual C++, Framework, or troubles with the graphic accelerator drivers functioning (specifically NVidia).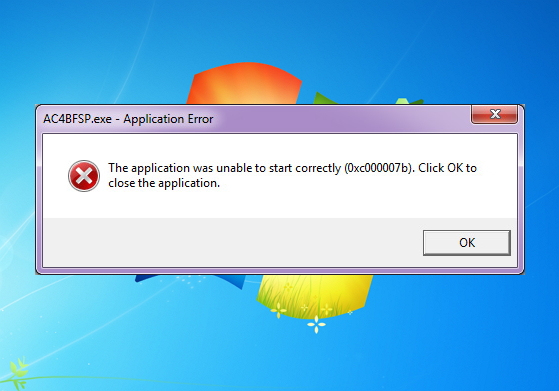 What should be done to find the way out?
As has been indicated, this problem in BF or any other game comes as a consequence of abnormal changes taken place in data files, that are required to run this app. The very dilemma is: what to do with a weird error code 0xc000007b when you launch the app? We recommend you to follow the actions below. Each may assist you to launch your favorite game.
The first step is to download an update for the drivers of the graphics adapter. Reinstallation also may help.
Download/update .Net Framework, Visual C++ or Direct X. All the files are likely to be found on the Microsoft website.
Launch the game with admin. privileges. For instance, in GTA it may help to fix the error 0xc000007b.
Let's take a look at the additional pieces of advice on how to fix 0xc000007b.
Find the command prompt using Start button and type sfc /scannow. It will find some failures in your OS and correct them. Sometimes it may also assist you in the elimination of the application error 0xc000007b.
Test if the same issue arises in other games. There's a chance that "the application was unable to start correctly 0xc000007b" may be related to the data of the specific game. Complete the reinstallation of the application and run it once more.
Before installing Direct X, it is necessarily to pass to SysWOW64 (may be System32 if your OS differs), then remove the objects with .dll extension: begin from d3dx9_24 and delete up to d3dx9_43. You should install Direct X afterwards.
If error 0xc000007b still shows up, there are two more variants:
make system recovery to the very point, where error hasn't come out;
reinstall your Windows.