How to fix Windows 10 0x80240034 error?
0x80240034 is an error that may occur during the installation of the update for the Windows 10 operating system in the Update Center. This error appeared about six months ago – after the release of Windows 10 Insider Preview version 16226.
It would seem that in the meantime, Microsoft could already eradicate the problem that causes error 0x80240034, however it is still present in the system. For example, not long ago, Windows 10 users complained about the error 0x80240034 during the installation of the cumulative update under the number KB4048955.
This error could appear on your computer for a variety of reasons, for example, some components of the Update Center were corrupted, a third-party antivirus installed on the system interfered with the update process, incorrect settings, lack of the .NET Framework 3.5, and so on. In general, the reasons – the sea. However, despite all of the above, the error 0x80240034 on Windows 10 can still be resolved using several methods. It is about these methods that we will tell you in our today's article.
Windows 10 0x80240034 guide: how to fix error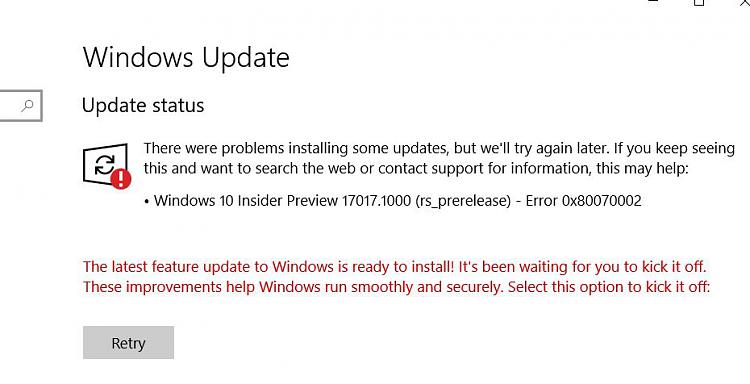 Method #1 Troubleshooter
Your very first action when you receive error 0x80240034 should be to use the Windows Update Troubleshooter. Microsoft knows very well that when something is updated automatically, something can always go wrong. It was with the goal of eliminating problems when updating them that a tool was developed that, in theory, can help you with the difficulties that have arisen.
Run this troubleshooter quite simply. Let's see how to do this:
open the Start menu and left-click the gear icon to open the System Settings;
next, find and go to the section called "Updates and Security";
then go to the "Troubleshooting" tab;
click on the item "Windows Update", located in the "Start and Run" section;
click the "Run the Troubleshooter" button;
Once you click on the above button, you will see a small window for the troubleshooter. It will begin scanning your system for any problems that prevent Windows Update from working correctly. All you need to do is monitor the process and perform everything that you will be offered by the troubleshooter. When you are finished with it, try restarting Windows Update again to check for error 0x80240034.
Unfortunately, the troubleshooter rarely performs its functions in relation to Windows Update. Many users, using it, argue that his work did not give any result. However, the network can be found lucky, to whom this system tool all the same helped. Perhaps you are one of those lucky ones.
Method #2 Changing the startup type of multiple services
You may have encountered error 0x80240034 because the services required for the update were simply deactivated. This happens from time to time in Windows, unfortunately, but this situation can be corrected by simply setting an automatic startup type for these services, i.e. they will automatically start with the launch of the operating system itself, as, in fact, it was conceived.
You can set up the type of launching via the graphical interface of Windows 10 automatically, however, we suggest you do a little differently: enter several commands on the Command line that activate the required type of launch for these services. Believe me, this is much faster than digging in the system settings.
So, right-click Start and select "Command Prompt (Administrator)". As soon as you see a black window of the system console, enter the following list of commands into it:
SC config wuauserv start = auto
SC config bits start = auto
SC config cryptsvc start = auto
SC config trustedinstaller start = auto
After completing the above commands on the Command line, restart your computer, and then try again to update the Windows 10 operating system to ensure that the error 0x80240034 is fixed.
Method #3 Activating the .NET Framework 3.5
Another method by which you can solve this problem is to activate an element of the system, such as the .NET Framework 3.5. However, you do not have to download anything to your computer, as you might have thought, since everything you need has long been in your system.
To activate the .NET Framework 3.5, you need to do the following:
open the Control Panel and open the "Programs and Features" item;
click on the link "Enable or disable Windows components";
tick the box next to ".NET Framework 3.5";
close the Control Panel, and restart your computer.
After activating the .NET Framework 3.5 for your Windows 10, try running the OS update again. Perhaps the reason for the error 0x80240034 really was the absence of this element.
Method #4 Resetting Windows Update Components
It's worth noting that error 0x80240034 may be the result of some Windows Update components being damaged. Fortunately, if the problem really is this, you can easily reset these components with a series of commands for the system console.
Open the Command line, as already demonstrated in the above methods, and then write the following commands into it:
net stop bits
net stop wuauserv
appidsvc net stop
net stop cryptsvc
Del «%ALLUSERSPROFILE%\Application Data\Microsoft\Network\Downloader\qmgr*.dat»
sc.exe sdset bits D:(A;;CCLCSWRPWPDTLOCRRC;;;SY)(A;;CCDCLCSWRPWPDTLOCRSDRCWDWO;;;BA)(A;;CCLCSWLOCRRC;;;AU)(A;;CCLCSWRPWPDTLOCRRC;;;PU)
sc.exe sdset wuauserv D:(A;;CCLCSWRPWPDTLOCRRC;;;SY)(A;;CCDCLCSWRPWPDTLOCRSDRCWDWO;;;BA)(A;;CCLCSWLOCRRC;;;AU)(A;;CCLCSWRPWPDTLOCRRC;;;PU)
cd /d %windir%\system32
regsvr32.exe atl.dll
regsvr32.exe urlmon.dll
regsvr32.exe mshtml.dll
regsvr32.exe shdocvw.dll
regsvr32.exe browseui.dll
regsvr32.exe jscript.dll
regsvr32.exe vbscript.dll
regsvr32.exe scrrun.dll
regsvr32.exe msxml.dll
regsvr32.exe msxml3.dll
regsvr32.exe msxml6.dll
regsvr32.exe actxprxy.dll
regsvr32.exe softpub.dll
regsvr32.exe wintrust.dll
regsvr32.exe dssenh.dll
regsvr32.exe rsaenh.dll
regsvr32.exe gpkcsp.dll
regsvr32.exe sccbase.dll
regsvr32.exe slbcsp.dll
regsvr32.exe cryptdlg.dll
regsvr32.exe oleaut32.dll
regsvr32.exe ole32.dll
regsvr32.exe shell32.dll
regsvr32.exe initpki.dll
regsvr32.exe wuapi.dll
regsvr32.exe wuaueng.dll
regsvr32.exe wuaueng1.dll
regsvr32.exe wucltui.dll
regsvr32.exe wups.dll
regsvr32.exe wups2.dll
regsvr32.exe wuweb.dll
regsvr32.exe qmgr.dll
regsvr32.exe qmgrprxy.dll
regsvr32.exe wucltux.dll
regsvr32.exe muweb.dll
regsvr32.exe wuwebv.dll
netsh winsock reset
netsh winhttp reset proxy
net start bits
net start wuauserv
net start appidsvc
net start cryptsvc
Type the commands to reset Windows Update, and then restart your computer. Try again to update to see if the error 0x80240034 was fixed or not.