How to fix BSoD 0xc0000221?
Windows can not boot, issuing an error code 0xc0000221. It means that the driver or the dynamically connected OS library has been corrupted.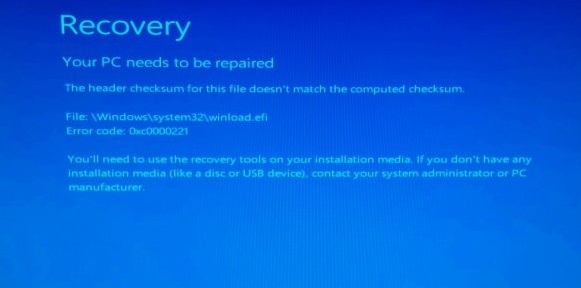 To solve the problem, do the following:
Use DISM and SFC. Utilities are launched via the command line with such requests:

dism.exe /image:ХХХ:\ /cleanup-image /restorehealth
sfc /scannow /offbootdir=ХХХ:\ /offwindir=ХХХ:\windows​​
, where XXX is the letter of the local disk on which the OS is installed.

Restore the OS from the installation disk (flash drive). In this case, you need to use the Windows image that is installed on the computer.
Make sure that there are no lines in the Device Manager with an exclamation (question mark). If there are no suitable drivers for any equipment, then install them.
Check the discs for errors. This is done on the command line by running the Chkdsk / f / r command.
Make sure that the RAM is working. Utilities similar to Memtest + will help in this. It is preferable to perform a check for each memory strip separately.
Increase the amount of paging file. Sometimes the available space is not enough for the OS to work properly, because of what the 0xc0000221 crash occurs.