Errors "NVIDIA Installer Failed" and "NVIDIA Installer Cannot Continue" don't give you a opportunity to install drivers for your video card. Don't matter how many time you trying to do this – you're always will see this errors.
Exists a really enormous list of reasons why this problem happens. Fortunately, also exists wide range of different solutions for this errors.
Once you have downloaded the drivers, even after a failed installation, they will be, so to speak, "stored" in the folder C:\NVIDIA\. In this case you need to delete all files from this folder, but after failed install.
Fixing error "NVIDIA Installer Cannot Continue"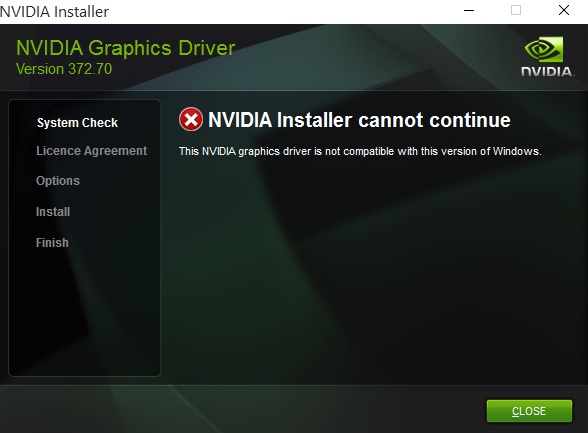 Method #1 Manual installation of drivers
Right-click on the "Start" and select "Device Manager".
Find in the "Display Adapters" your video card.
Then click on "Action" and select "Delete". After this restart your computer.
Open again the "Device Manager", right click on the video card, and select "Update Driver Software …".
In appeared window select "Search computer for driver software" and choose folder with downloaded drivers.
Method #2 Delete EVERYTHING connected to NVIDIA
As shown in the previous method, delete the graphics driver via the "Device Manager" and restart the PC.
Open the "Control Panel" -> "Programs and Features".
Remove all tools are related to Nvidia. Then reboot.
Once you make sure that you have removed all of what you need from your PC, then once again make the installation of the drivers.
Method #3 Disabling of the antivirus
Anti-virus software is known for its ability to prevent even the most secure installations. If the error "NVIDIA Installer Can not Continue" connected with this, then try disabling your antivirus software during installation of drivers.
Method #4 Rename folder NVIDIA
Go to C:\Program Files\
 Rename the folder "NVIDIA Corporation" to something else.
Start the driver installation again. At this time, the error "NVIDIA Installer Can not Continue" should not disturb you.