Stadia: everything we know about the Google streaming game service
Imagine that in the future for new gaming innovations you will no longer need expensive equipment, and it will be enough just to launch the Chrome browser, select the game and immediately enjoy the game process without having to wait for the download or installation of new patches.
This is the idea of ​​the streaming service Google Stadia. Just five seconds after opening the tab with the game in the browser – and you can already play in 4K resolution at 60 frames per second. According to the developers, the computing power of the cloud service will be equal to the console with a performance of 10.7 teraflops, which exceeds the capabilities of Xbox One and PS4 Pro combined. This innovation can be a real breakthrough in the gaming industry.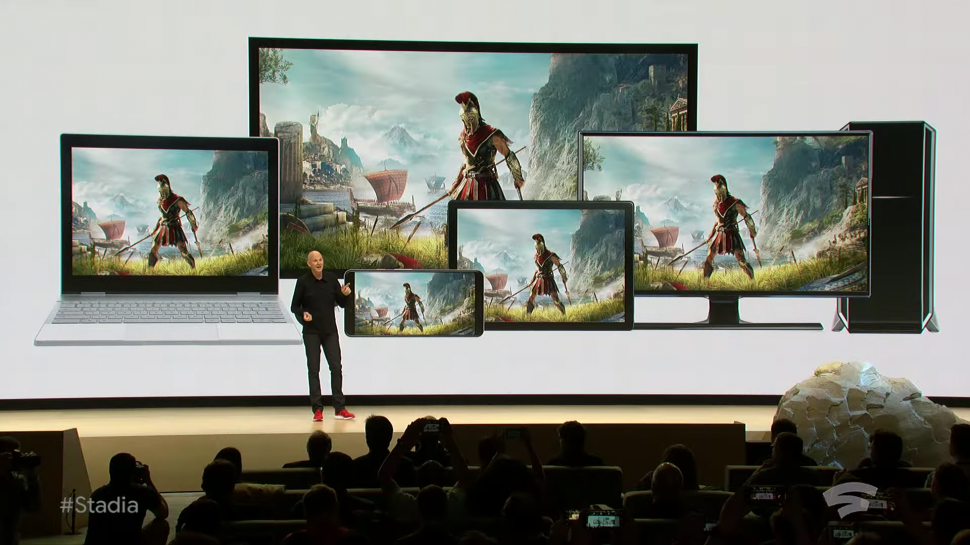 The Stadia service (which was previously announced as Project Stream) will allow you to use any modern computer, laptop, tablet or even smartphone for video games – all information processing will take place on servers in Google's data centers.
In short
What is it?

A large-scale project for streaming services, like Netflix, but in the gaming world. Stadia will compete with the new generation of consoles.

When is the launch?

It is expected that the service will begin operation in 2019, but so far only in several countries, including the USA, Canada and the UK.

What is the cost of use?

So far, representatives of Google do not cover this moment and it is not even known whether it will be necessary to pay for a subscription, to buy games, or both.
How does google stadia work
In order to use the streaming playback service, it is enough to have a stable high-speed Internet connection and the latest version of the Google Chrome browser. Before starting, it is proposed to undergo testing speed and ping the Internet. Recommended features: speed of 15 Mbit / s, a delay of no more than 40 ms, and data loss of no more than 5%.
The Stadia beta offers Assassin's Creed Odyssey for testing. When launched in the browser, it will work in full-screen mode, just as if it were running on the corresponding gaming PC. As a controller, you can use the keyboard and mouse, or connect a gamepad.
During the game, the data coming from the user's computer is sent to the Google servers, and from there the processed streaming image and sound returns. Therefore, for normal use of the service, it is very important to have a good network response time. Exact data is being specified, but Google said that as a result, gamers will have access to 8K games at 120 frames per second, which is significantly higher than current standards.
Stadia is much simpler and more convenient than the currently existing similar services that provide players with a virtual desktop. It will support the function of broadcasting games through Google Chromecast, and developers are also planning to implement a cross-platform multiplayer mode.
For the most comfortable gameplay, it is recommended to use the corporate gamepad Stadia, which connects directly to the cloud service (which is a great advantage in terms of speed) and is equipped with a Google Assistant button that provides access to special in-game features and tips.
What games will be available on Stadia?
In the Beta version of the service so far there is only Assassin's Creed Odyssey. But this gives some idea of ​​what level of games will be available on Google Stadia. Here is a list of recommended Ubisoft system requirements for playing Assassin's Creed Odyssey with high graphics settings in Full HD resolution:
Processor: AMD FX-8350 @ 4.0 GHz, Ryzen 5-1400, Intel Core i7-3770 @ 3.5 GHz.
Graphics card: AMD Radeon R9 290 or NVIDIA GeForce GTX 970 (4 GB VRAM or more with Shader Model 5.0) or higher
RAM: 8 GB
Free disk space: 46 GB
For those who want to play in 4K resolution, we recommend the AMD Ryzen 1700X or Intel Core i7 7700 processor, the AMD Vega 64 or Nvidia GeForce GTX 1080 video card and 16 GB of RAM.
Using Google Stadia, Assassin's Creed Odyssey or other AAA categories similar to it, you can run even on entry-level devices. For example, recently Marty Stratton from id Software announced that a new Doom Eternal will be available at Stadia, moreover in 4K resolution with a frame rate of 60 fps.
Multiplayer games, many of which require quick response, are usually not popular on cloud-based gaming services, as streaming data is usually not without delays. But the Stadia project, given the powerful infrastructure and the controller that connects directly, may well make a difference. Then cloud gaming will reach a new level, because games like Fortnite and Overwatch attract thousands of players from all over the world.
Google has announced the creation of Stadia Games and Entertainment – a new division that will deal exclusively with the development of games for the new Stadia platform.
In addition, the service supports joint play through Stream Connect and the Crowd Play function, which allows you to connect to streams at the touch of a button. For fans to share their gameplay there is the ability to send streaming video directly to the YouTube channel, as well as the State Share function, which creates a google link to any saved place in the game.
Impressions of testing Project Stream
Employees of the publication Techradar conducted a beta test of a gaming platform with different equipment and at different speeds on the Internet. The game was compared on an unstable 2.4 GHz Wi-Fi network, stable 5 GHz Wi-Fi and high-speed Ethernet. The equipment used was a modern desktop PC and two laptops: a 5-year-old Chromebook, and a two-year-old Razer Blade.
In general, they described the service as "quite playable", including on an outdated computer. If there were any problems with graphics, this is primarily due to a poor Internet connection, because the resolution decreases when the speed drops.
Provided that only high-speed cable Internet is used, the image quality remains consistently high with a frame rate from 30 to 60. But in particularly dynamic scenes and where there is a lot of detail, blurring was observed, in particular, it concerns the characters' faces. However, Stadia developers can still fix these problems before the final version is released.
It is not known whether Stadia will be a serious competitor to traditional types of gaming using consoles and PCs, as company representatives say. But, given that the streaming service allows you to play the most modern games, having only a stable Internet connection, you can safely say that this concept has great potential.