An error may occur with the code 327684: 1 in the Origin game center. Especially often it appears during installation of the client, downloading or updating the game, additions to it. No matter how many times a user tries to update a client or a game, the error continues to haunt. However, we know those methods that really remove error 327684: 1.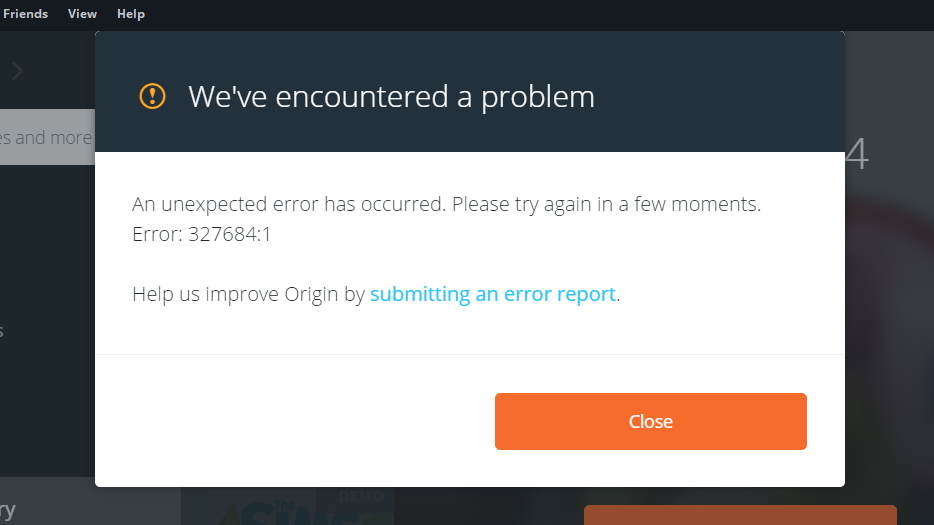 Correction Methods
Experimentally, we managed to determine several working methods.
Reinstalling Origin according to the instructions
This is a non-standard reinstallation method, which involves cleaning all temporary and residual files after deleting the Origin client.
Algorithm of actions:
It is standard to delete Origin from the computer through the "Programs and Features" (the item is available after the PCM on the "Start").

Download the offline installer

link

.

Clear the client cache by deleting folders (described below). To find some folders, you need to enable the display of hidden objects:

C: \ Users \ user \ AppData \ Local \ Origin \ Origin;

C: \ Users \ user \ AppData \ Roaming \ Origin;

C: \ ProgramData \ Origin.

Remove residual files and keys from the registry and computer memory using CCleaner or a similar application. To do this, use the tab "Cleaning", and then – "Registry".

Turn on the computer in the clean boot mode (

link

to the official instructions).

Install the client from the downloaded file without changing the save directory.
Check the integrity of the Origin game files
To do this, use the special Origin function:
Launch the client Origin.

Go to the "Library" page.

Right-click on the game icon and select Restore.
Automatic detection of network settings
Step by step instructions for implementation:
Start Internet Explorer, for this you should use the search in the "Start" or "Search in Windows".

While in the browser, you need to click on the gear icon in the upper right corner and select "Browser properties".

Open the "Connections" section and click on "Network Setup".

Set a check mark in front of the line "Automatic detection of parameters".

Click OK, save the changes and restart the PC.
Editing the configuration file
The point is to change the server to connect:
Launch the explorer through the shortcut on the "This Computer" desktop and go to the "Documents" section. The desired link is often in the menu on the left.

Select the directory "My Games" and go to the folder with the name of the game.

Open a directory with a random set of letters and numbers.

Make PCM on the file "GameSettings.ini" or similar and "Open with" the usual "Notepad."

Press the key combination Ctrl + F and paste DataCenterHint = default.

Replace the "default" parameter in the found string with "weu" (Western European server) or "neu" (Northern European server).

Save changes and try to enable the game.
According to user feedback, each of these methods helps. Which one works for you depends on the cause of the problem. You just have to try all the methods, checking after each one if the error 327684: 1 passed.