Download Minecraft PE 1.17: Caves & Cliffs APK
If you want to download Minecraft PE 1.17, you've come to the right place! On October 3, 2020, Mojang studio announced a major new update for its cubic hit, Caves and Rocks, at the Minecraft Live 2020 conference. To say that this is one of the biggest updates in the history of the game is to say nothing.
New world generation, new biomes, new cave types, new mobs and items – this and much more awaits you in Minecraft PE 1.17 "Caves and Rocks". In today's article, we'll walk you through the most notable innovations and changes of the update, and share with you a link to download this version. Let's go!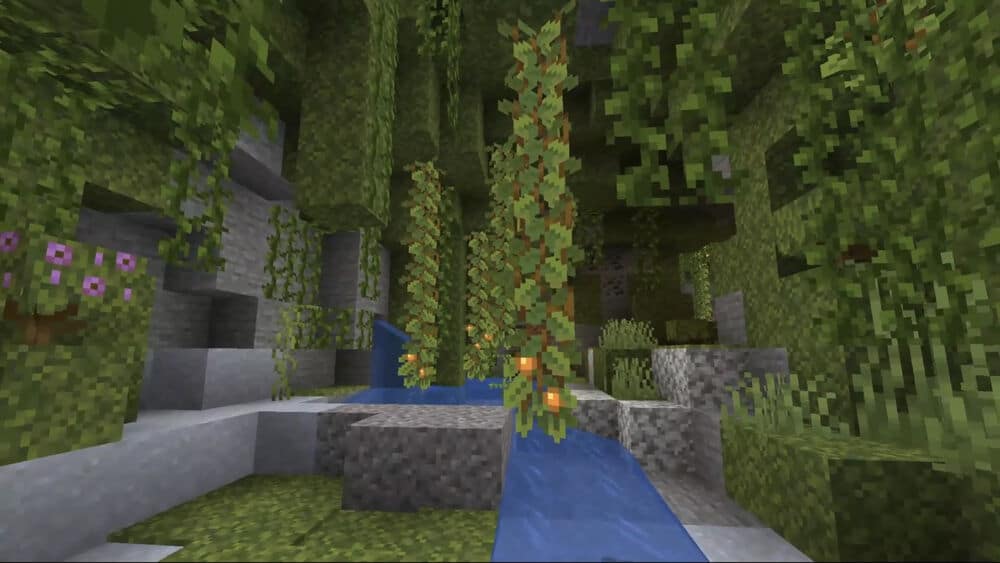 Updated World Generation
General Information
In the new update the in-game world generation has been significantly expanded. The maximum height and depth of the world has been increased by 64 (!) blocks, which gives us a total of 384 blocks. A variety of underground structures, such as caves or mines, can now be generated at a depth of up to -64. The height of the generated surface can go up to 256 blocks, which was previously the maximum height of the world in principle. More world = more content. No need to complain.
New biomes/cave types
Three new unique biomes have been added to Meinkraft: overgrown (or lush) caves, stalactite caves, and dark depths. Let's walk through each of these biomes with you. Overgrown caves are similar in structure to regular caves, but they are filled to overflowing with a variety of plants.
In the overgrown caves you will be able to find new plants such as:
light berries;
flowering spores;
water lilies (new version);
azaleas;
an unknown moss.
Have you ever seen in any movie or documentary caves with stone "icicles" hanging from the ceiling? Well, they are not icicles, but stalactites – lime outgrowths, which are formed on the cave shelves due to water seeping down from above. Such caves look so damn beautiful – and now you can enjoy this beauty in Meinkraft, but only in cubic form, of course.
I would like to note some features of stalactite caves. In such caves you can find not only the quite expected stalactites, but also stalagmites and stalagnates. The first grow on the ceiling, the second – on the ground of the cave, the third – the pillars growing from the ceiling to the ground. By the way, beware of stalactites, because they have a habit of falling from the ceiling and damaging the player! Hint: the water dripping from the ceiling can be collected in a cauldron.
As for the dark depths, such a chain of caves are not generated above 0 in Y. In addition, the dark depths are the home of the so-called cliff blocks and the Warden, which we'll look at in more detail below. If you believe the information on the net, in the dark caves players can find a huge number of chests with a variety of loot inside. Undoubtedly a dark and scary place, about which, unfortunately, there is very little information at the moment.
New Mobs
Now let's talk about a number of new mobs in Minecraft PE 1.17. There are a lot of mobs and they all differ from each other by, so to speak, temperament, and therefore divide them into three categories: passive, neutral and aggressive. Let's start with the passive…
The Glowing Sprout
Axolotl
Goat
Warden
New Items
Now we move on to the no less interesting section – new items. There are many gadgets, and all of them will be useful to you when exploring the cubic world. We will look at the most interesting and the most practical innovations.
Telescope
Brushes
Bag
Luminous ink
Thunderbolt
New Blocks
A lot of new blocks have been added to Minecraft PE version 1.17. We'll walk through the most interesting of them with you. If we decided to list all the new features, the article would grow to a colossal size and it would be boring to read.
Amethyst blocks and crystals
Copper blocks and ingots
Mild Snow
Skalk Sensor
Moss
Smooth basalt
Download Minecraft PE 1.17
Note: Minecraft PE 1.17 is still under active development – its release is scheduled for summer 2021. Nevertheless, quite a lot of the content of the long-awaited "Caves and Rocks" update is already available in Minecraft PE 1.16.220.50, 1.16.210.61 and below. How to activate all this content? Yes it's simple: go to the settings of the created map and switch the slider "Caves and Rocks" to the active position.
You'll be able to download Minecraft PE 1.17 from this page when the update gets to its release. For now, we strongly advise you to download an older version and play with the new content.