Quickly fixes 212 error in X4: Foundations
The long-awaited continuation of the acclaimed series, X4: Foundations is finally available for download on your PC. The game is a space simulator, in contrast to the previous part allows you to control not only the ships, but also the whole empire. But, unfortunately, there were some bugs in the game, and one of these is the well-known "error 212". Our article will explain to you how to get rid of this error once and for all by all methods known to date.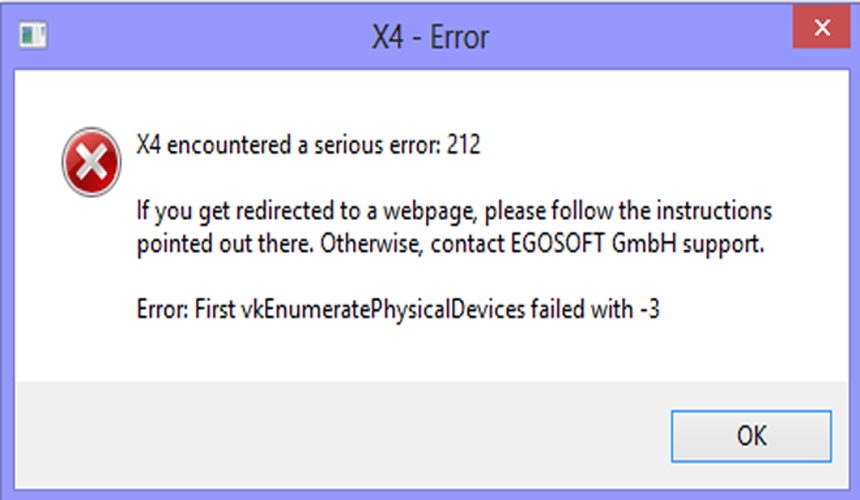 How to fix the error?
This error signals a game conflict with your video card.
Initially, it is worth making sure that your computer meets the minimum gaming requirements. One of the main criteria is video card support for the API Vulkan technology . If your video card does not support this technology, then the game cannot be started. If you pass through the system requirements, then there are several steps to eliminate this bug: you need to disable the integrated video card and reinstall the driver.
How to disable integrated graphics card in Windows?
Right-click on 

"My Computer"

 and select 

"Management"

;

Go to the 

"Device Manager"

 and open the list of video adapters;

Click on the desired device with the right button and select 

"Disable"

;

Do not forget that you need to disable the built-in video card.




To determine the built-in video card, we advise you to use a search engine, such as Google.
How to disable the integrated video card in the BIOS?
First of all, when booting the PC, you need to press 

Del, F2

 or 

F10

to go to the

BIOS

.

After that, you need to go to the tab with the built-in equipment and find items like: 

Intergation Video

 or 

Primary Video Controller *

.

You must set this item to

"Disable"

.
* Depending on the BIOS version, this item may have different names.
How to update the video driver?
In order to update the drivers of your video card, first of all you need to download them. To do this, go to the site NVidia or AMD, depending on your model and download the latest driver.

Next, run the installer and, after a while, your driver will be updated to the latest version.