What Is Prey?
Aliens have taken over the space station, and only you can stop them. Or, make that Yu. On May 5, 2017, Prey releases on Xbox One, PlayStation 4 and PC – and, as Morgan Yu, you'll be mankind's only hope to stop the Typhon threat from destroying humanity.
Prey is the latest game from Arkane Studios, the team behind the multi-award-winning Dishonored series. Watch the latest trailer to get a deeper look at the Typhon aliens, Morgan's unique powers and weapons, and the Talos I space station itself.
Embracing its signature style, Arkane is building what it's calling an "open space station game," complete with the studio's characteristic freedom and player choice. "There are many layers to Prey," says Creative Director Raphael Colantonio. "There's the shooter aspect, but it's also an RPG and an adventure. You'll explore, you'll fight, you'll play with powers – both human and alien. You craft your playstyle based on the choices that you make."
A sci-fi thriller set in an alternate future, Prey not only includes intense action but a deep story. As you fight the Typhon, you'll also unravel the mystery behind your own identity and your role aboard Talos I. "Morgan is the key subject in an experiment that is meant to alter humanity forever," says Lead Designer Ricardo Bare. "You awaken aboard a space station called Talos I, which is orbiting around the moon. But when you wake up – when you step out into the main lobby – you immediately see that things have gone terribly wrong. It's up to you as the player to figure out: How did I get here? What's going on? How do I survive? And how do I get off this space station?"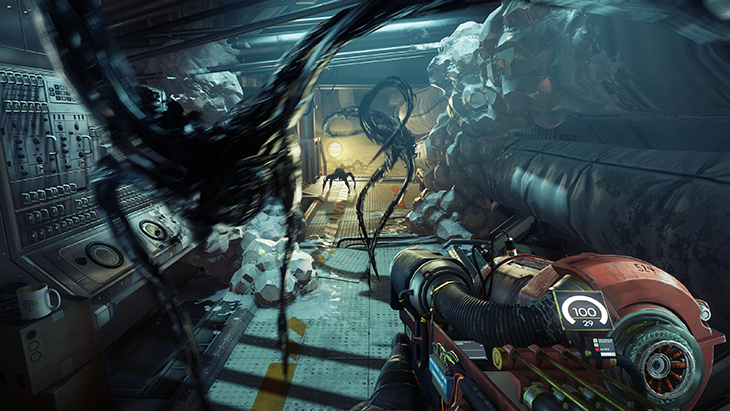 For a deep dive into the latest gameplay trailer – with additional insights into the aliens, weapons and powers – check out: Prey – Release Date, Gameplay Trailer 2 & New Details
Watch a full 8 minutes of gameplay and explore even more of Prey here: Prey – New Gameplay Video and Details
In Prey's alternate future, President Kennedy survived the attempted assassination. See how Talos I emerged out of this timeline with our alternate history video and feature: Prey – The History of TranStar
Creative Director Raphael Colantonio explains the unique look and feel of Talos I in this video: Prey – Talos I & the Neo-Deco Future
Player choice is paramount in Prey – including the option to choose your gender for Morgan Yu. Watch Prey's announce trailer – but with a different take on Morgan: Prey – Meet Female Morgan
Since 1999, Arkane Studios has focused on making games its own way. Get an inside account of what Prey and Dishonored share in common – and where they differ: Dishonored 2, Prey and the Arkane Way
Catch up on all the available Prey videos with our YouTube playlist.
Cosmonaut Shotgun Pack Available exclusively when you preorder Prey, the Cosmonaut Shotgun Pack includes the Margrave shotgun (a Yu family heirloom), along with three Neuromods (used to acquire new abilities), two medkits, a unique upgrade, and several other goodies that'll help you save the world from the Typhon aliens. Preorder today to receive the Cosmonaut Shotgun Pack.